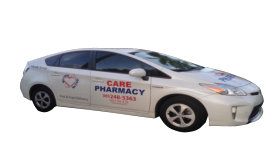 Care Pharmacy is your trusted pharmacy with staff who truly cares. In this regard, we offer free prescription pick-up and delivery for your convenience. Our delivery service is fast and reliable
Rest assured that your medications are shipped in confidential tamper-resistant packaging. Through our delivery services, your medications will be delivered right in the doorstep of your home.
If you have inquires about our free pick-up and delivery services, just give us a call at 305-248-5363.